Meter K24
Digital flow meters for low-viscosity fluids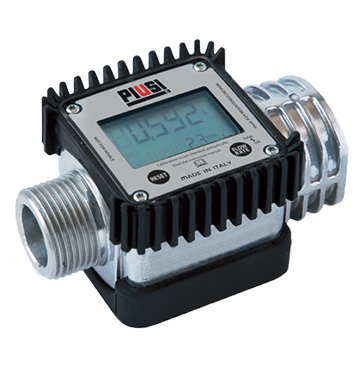 Easy to install, in line or at the end of a delivery pipe, equipped with a screen that can be adjusted to various positions for easy reading. The ideal instrument for controlling fluid dispensing. Sturdy casing and a sealed electronic card make it suitable for use in practically all conditions.
Specifications:
Aluminum (K24) or reinforced polyamide (plastic version) body.
Polypropylene turbine.
Impulse-type signals:
single channel, reed switch.
Electronic card with LCD display: 5-digit partial from 0.1 to 99999, 6-digit total from 1 to 999999
Resettable total available.
Flow rate indication.
Repeatability 0.2 %. Loss of pressure < 0.03 bar at 120 l/min.
Can be calibrated. Powered by two AAA batteries.
Electronic meters technical data:
| | | | | |
| --- | --- | --- | --- | --- |
| Description | Flow-rate | Pressure | Connection | Fuel |
| K24 | 7 - 120 l/min | 20 bar | 1" | Diesel |
| K24 ATEX | 7 - 120 l/min | 20 bar | 1" | Diesel, Gasoline |
Pulser meters technical data:
| | | | | | |
| --- | --- | --- | --- | --- | --- |
| Description | Flow-rate | Pressure | Pulser | Connection | Fuel |
| K24 ATEX | 7 - 120 l/min | 20 bar | 92 p/l | 1" | Diesel, Gasoline |